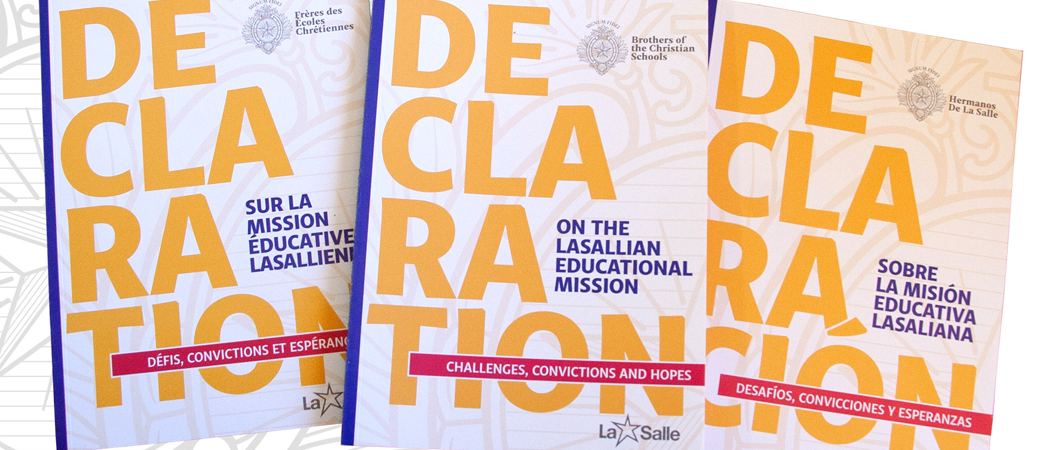 In response to Proposition 17 of the 45th General Chapter, the following Declaration on the Lasallian Educational Mission is presented. Its intention is to motivate and guide our educational work toward the future in response to the needs and challenges of today's world. It seeks to offer proposals full of hope and to highlight certain convictions derived from our rich history in order to facilitate the development and continuity of our Educational Communities.
---
En respuesta a la propuesta 17 del 45° Capítulo General se presenta la siguiente Declaración sobre la misión educativa lasallista. Su intención es motivar y orientar nuestra labor educativa de cara al futuro para responder a las necesidades y desafíos del mundo actual. Busca ofrecer propuestas llenas de esperanza y destacar algunas convicciones derivadas de nuestra riqueza histórica para facilitar el desarrollo y continuidad de nuestras comunidades educativas.
---
C'est en réponse à la proposition 17 du 45e Chapitre général que la décla- ration suivante sur la mission éducative lasallienne est présentée. Elle a pour but de motiver et d'orienter notre travail éducatif pour l'avenir, afin de répondre aux besoins et aux défis du monde d'aujourd'hui. Elle vise à faire des propositions porteuses d'espoir et à mettre en évidence quelques convictions issues de notre richesse historique, pour faciliter le développement et la continuité de nos communautés éducatives.
---